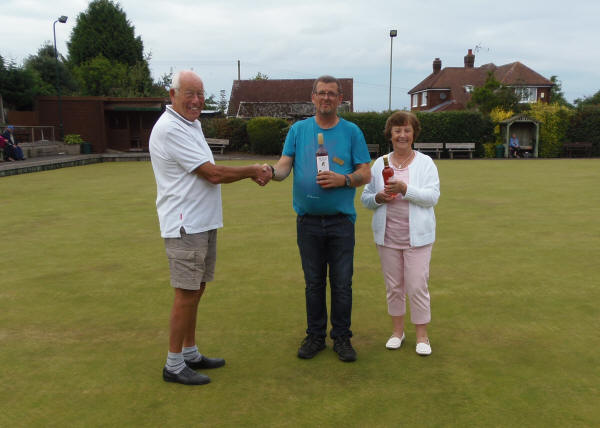 Joe Burnside & Eunice Williams
Receiving the prizes after winning, from Colin McMurray who will be the 2022 Club Captain.
The Final was won 10-7 over 9 ends.
Joe and Eunice took an early lead of 7-0
but the losing finalist Lauren, & Tony managed to pull back to 7-10.

Joe, the 2021 Club Captain, made his speech thanking everyone for attending this event.
and a special thanks went to: Jean Wilson, and Jane Flatters, who prepared the delicious Buffet. and Dot Davies and Pauline Sorrell, who helped in the kitchen.
Joe also thanked the members and friends from Highley, and Chelmarsh Bowling clubs
for supporting and taking part in this annual event,
Last but not least Phil Pack who did his usual perfect presentation of organising
all of the matches.